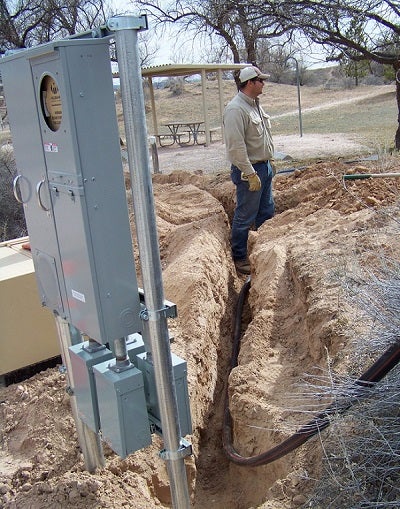 Do you need to establish electric service with us?  We have two different processes depending upon your situation.
---
Process 1:  If you are a new customer to us and moving into a location that already has a meter or a meter panel, you will need to complete a service application and pay the required deposit, if any.
Process 2:  If you are buying a vacant lot or piece of land that will require us to extend facilities to serve you, we will need to determine the cost to construct the electrical facilities.  The first step will be for your to call the office and provide as much information as possible.  We will need your name, cell phone number, email address, lot information or service location information, and as much information as you can provide about the electric service needed.  For example, are you requesting a 200 amp residential service, a 480 volt service for a 75 horsepower irrigation pump, or a 208 volt three phase commercial service.  After your initial contact with the office, a Lincoln County Power representative will contact you to discuss the service.  For large commercial services we will need electrical plans prepared by your engineer/architect in order to size the electric service equipment.  We may need to visit the property.  We will then prepare a detailed cost estimate to extend our electric system to provide you with electric service.  If you wish to proceed, you will need to pay the estimate in full.  We do not proceed with line extensions that have not been funded by the requesting customer.  In addition, if you are a new customer to us, you will need to complete a service application and pay the required deposit, if any.
---
If you are a residential customer, click the button for a residential service application.  If you are a business, government organization, civic organization, farm or ranch, click the button for a commercial service application.  You can either fill out the application and submit on-line, or complete the PDF application and mail or email to us.
We are here to help.  If you have questions, don't hesitate to call us at 775-728-8200 or to stop by the office to discuss your electric service needs. 
Residential Service Application
Residential Service Application PDF
Commercial Service Application
Commercial Service Application PDF
---